Below are many different recipes that you can dig into. Simply have your breakfast at home, and then enjoy the main meals for dinner, and have leftovers for lunch. You can slice up the leftover meat; add roast vegetables and a pile of greens, drizzle of cold pressed oil, salt and pepper. In your lunch also, you want to have a couple of snacks to keep you going, so take your pick! Many people think eating a salad will not provide them with the energy to keep going, though trust me, with a slow transition, they provide everyone the nutrients and thriving energy they want and need.
If you would like to change your diet in a systemised way, as an athlete or a family then I suggest the Changing Habits 21 Step Reset. It takes you step-by-step, habit-by-habit to a new way of eating.
With love and great health
Sheridan Williamson – Changing Habits Nutritionist
Cyndi O'Meara – Founder of Changing Habits
Breakfast Recipes
Einkorn Pancakes
1 1/4 cups Einkorn Flour
2 Tbsp Rapadura Sugar
2 tsp baking powder
1/2 tsp Seaweed
1/4 cup Coconut Oil to cook with (a generous amount!)
1 free range/organic egg
3/4 cup organic milk (cow, goat, coconut or nut)
Method
1. Mix all dry ingredients together in a bowl.
2. Mix all wet ingredients together in another bowl.
3. Add dry ingredients to wet ingredients and mix until smooth.
4. Heat a large frying pan over medium heat. Add ghee, butter or coconut oil for frying. Pour some of the mixture into the pan and cook on one side until it starts to bubble, then flip. Continue with the rest of the mixture.
Perfect topped with sweet or savoury ie yoghurt, fruit, honey, nuts, seeds, eggs.

CADA (homemade 'muesli'):
Ingredients
1/4 cup flaked coconut
15 almonds – crushed
4 fresh dates – chopped
2 small apples – grated
1 TBS chia seed
2 TBS goji berry
1 TBS sunflower seeds
2 TBS pumpkin seeds
Method:
Place all ingredients into a bowl and mix. If you have a thermomix place all unprepared ingredients into the TM bowl, put the dial on close lid and pulse a few times. I like mine chunky. Serve with yogurt and fresh mango.
Nourishing bacon and eggs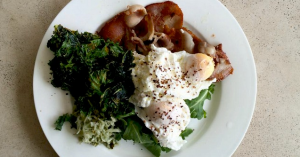 Ingredients:
2-3 x free-range eggs (organic if possible)
1 cup of kale, chopped
1/2 cup rocket
1 tsp ground turmeric
Freshly cracked pepper
2 tbsp Changing Habits Coconut Oil
2 tbsp sauerkraut
Pinch of Changing Habits Seaweed Salt
1 tbsp Inca Inchi Oil (optional)
1 tsp extra dulse flakes
2 rashers of bacon that is cured with salt only. This is quite hard to find. You need a trustworthy butcher and for them to show you the ingredients that they use to cure their bacon. It should be salt and water only.
Method:
1.    Boil up some water in a pot or pan on the stove, add a dash of apple cider vinegar and crack your eggs into the water and take out when they are your desired firmness.
2.    Whilst they are cooking, heat up a pan of coconut oil and add your bacon. While your eggs and bacon are cooking, lay down a bed of rocket. Once the bacon and eggs are cooked, add them to your plate, followed by the sauerkraut or Changing Habits Probiotics sprinkled over the top.
3.    Finally, while the pan is still hot where your bacon was, add the kale to fry up, and toss the turmeric, seaweed salt and pepper through the kale. Once the kale is soft or even crispy, place on the plate.
4.    Sprinkle dulse and poor the Inca Inchi Oil over the meal and enjoy.
Homemade granola
Base Ingredients

3 TBS Changing Habits coconut oil
1 1/2 cups of Almond flour
2 TBS maleo
1/2 tsp baking soda
1/4 tsp Changing Habits seaweed salt
Nuts and dried fruit to add:
1 1/2 cup nuts – we used pecans, hazelnuts and walnuts (you can use other nuts for different tastes)
1/4 cup pepitas
1/2 cup dried fruits – we used cranberries and dried dates (you can use other dried fruits for different tastes)
Method:
Preheat oven to 125C.
1.    Combine your base ingredients and desired spices thoroughly (Christmas flavours)
2.    Roughly chop the nuts and dried fruit to bite size
3.    Add nuts and dried fruit to base and spice mix
4.    Spread evenly over 2 baking paper lined trays and place in the oven for 30 minutes.
5.    At the 15 minute mark, separate and spread the mix around to make sure it cooks evenly
6.    Let cool before placing in an airtight container.
Main Meal Recipes
Rissoles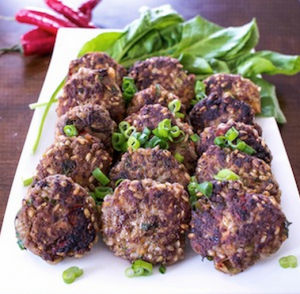 Ingredients
500 g organic beef or lamb, minced
1 onion, finely chopped
1 small carrot, grated
1 small zucchini, grated
1 cup cooked rice
1 organic free-range egg
1⁄4 cup rice flour
1 teaspoon seaweed salt
1/8 teaspoon freshly ground black pepper
1 tablespoon ghee or coconut oil for cooking
Method:
1.    Mix all ingredients, except oil, together in a large bowl
2.    Divide into portions using floured hands and form into rissoles
3.    Heat oil in a large frying pan over medium heat and brown 
rissoles on both sides (do this in 2 batches if the pan gets too crowded)
Serve with steamed organic vegetables or salad.
SERVES 4 -6
Makes 10-12
Vegetable red lentil soup
Ingredients
1 TBS butter
1 onion – finely chopped
2 celery stalks, finely chopped
2 TBS chopped coriander stems
1 TBS freshly grated ginger
2 tsp ground cumin
1 tsp ground coriander
1 tsp curry powder
250 grams dried red lentils, well rinsed
400 grams orange sweet potato, peeled and chopped into small cubes
3 medium carrots chopped into small cubes
2 litres of vegetable stock
2 tsp tamari
3 tsp mirin
Coconut milk and fresh coriander for garnish
Homemade crusty bread
Method:
1.    Heat the butter and add onion, celery, chopped coriander stem and ginger and cook for 5 minutes
2.    Add the cumin, ground coriander and curry powder and cook a further minute
3.    Add the lentils, vegetables and stock.
4.    Cook on a gentle heat for 40 minutes
5.    Add tamari and mirin
6.    Garnish with coconut cream and fresh coriander leaves
7.    Serve with homemade crusty bread.
Organic Corned beef
Ingredients
1 kg bio-dynamic silver side beef
1/3 cup changing habits seaweed salt
1 tsp rapadura sugar
2 tablespoons maple syrup
1 medium sized onion
15 whole cloves
filtered water
Method:
1.     Place the silver side beef into a container with a lid; stab the meat several times with a sharp skewer.
2.     Rub the combined seaweed salt and rapdura sugar onto the outside of the meat, covering well, sprinkle the rest of the salt onto the beef, cover
3.     Allow the meat to stand for 36 hours in a refrigerator
4.     Rinse the beef and place it into a large pot, cover with water, add the maple syrup and whole onion which has been pierced with the 15 cloves and bring to the boil, simmer gently for 1 hour.
Paprika Chicken with Quinoa Salad
1 cup quinoa
600 ml filtered water
1 bunch flat-leaf parsley – finely chopped
2 Tbsp finely chopped mint or coriander
8 Cherry tomatoes – quartered
3 spring onions – thinly sliced
¼ cup Inca inch oil
2 Tbsp lemon juice
½ tsp paprika, plus extra to sprinkle
1 tsp ground cumin
Pinch of cayenne
1 tsp Rapadura Sugar
1/4 tsp Seaweed Salt
1/8 tsp freshly cracked pepper
100 g thick yoghurt
1tsp paprika
1 Tbsp ghee or butter
4 x 180 gm organic chicken breast or thigh fillets
Method
1. Place the quinoa and 600 ml of boiling water in a small saucepan over medium heat, then bring to a simmer.
2. Cook 10 minutes or until tender. Drain well and leave to cool.
3. Add herbs, tomato and spring onion to quinoa and toss to combine.
4. Combine oil, lemon juice, 1/2 tsp paprika, cumin, cayenne and rapadura sugar, then season with seaweed salt and pepper.
5. Place yoghurt in a bowl and drizzle over 2 tsp dressing, then sprinkle with some paprika.
6. With the rest of the dressing, pour on quinoa salad and toss well.
7. Heat a sauce pan to a medium/high heat melt butter of ghee sprinkle 1 tsp paprika into the pan and stir
8. Grill the chicken approximately 7-8 minutes each side making sure the ghee paprika mix coats the chicken
9. Serve the chicken sliced on a bed of quinoa salad with yoghurt dressing mix dolloped on top, and freshly steamed asparagus or broccolini with lemon wedges on the side.

Roast Pumpkin, Avocado and Fetta Salad
½ butternut pumpkin, chopped into cubes and roasted until golden and cooked
1 red onion chopped into eighths
2 avocado's chopped into cubes
¼ cup pine nuts, roasted
¼ cup walnuts, roasted
4 cups of your favourite salad leaf greens
1/4 cup fetta cheese
1/8 cup of mayonnaise
Optional Add Ins: Cooked and shredded chicken or turkey, beef or lamb strips, tuna,
salmon or boiled eggs.
Method
1. Roast the pinenuts and pumpkin.
2. Allow them to cool slightly.
3. Add all other ingredients and toss.
4. Crumble and sprinkle fetta cheese and nuts over the salad.

Snack Recipes
The brilliant boiled egg is the perfect snack to take out with you, and it has its own Tupperware container!
TEVOL Bars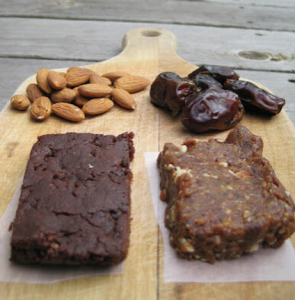 No Bake, Dairy free, gluten free and so easy!
Ingredients:
1cup seedless, whole dates
1/2 cup raw almonds
15 Changing Habits cacao wafers
Method:
Thermomix
1.    Place all ingredients into thermomix. Blend on speed 6 | 20-40 seconds until it all comes together
2.    Press into a square tin/contain, place in the fridge for 30 mins before slicing into bars
Non-thermomix
1.    Place all ingredients into a food process or kitchen wiz and blend until it looks like a dough
2.    Press into a square tin/contain, place in the fridge for 30 mins before slicing into bars
Beetroot hummus and vegetable sticks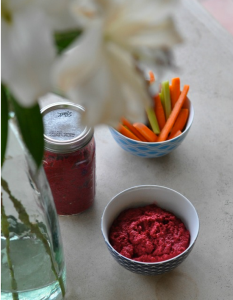 Ingredients
Use organic where possible.
500 grams beetroots (peel if not organic)
1 clove garlic
50 grams Changing Habits Inca Inchi Oil
50 g tahini
Juice of 1-2 lemons (taste after adding the juice of one and add more if needed)
20 grams organic, raw and unfiltered apple cider vinegar (Bragg's is a good brand)
2 tsp ground cumin
1/2 tsp Changing Habits Seaweed Salt
Method:
1.    If your beetroots aren't organic, peel them. Chop the beetroots into small cubes and roast at 190C until soft, or simply steam them until soft. Either works perfectly and both taste beautiful, though roasting may give it a deeper flavour. Once cooked, set aside to cool and in the mean time get your other ingredients ready.
2.    Once cooled, add all the ingredients to a large blender and blend until your desired consistency, either slightly chunky like the photo, or smooth and creamy.
Coconut and Chia Snack
Ingredients:
1/4 cup chia seeds
1 1/2 cups coconut milk
2 tsp home made vanilla essence
2 tsp Changing Habits Probiotics
2 tsp Changing Habits Colloidal minerals
2 tsp cinnamon
Method:
1.    Combine all ingredients in a glass or stainless steel bowl and leave overnight or until all the chia seeds soak up as much liquid as they can (about 30 mins). You would it to be loose, not solid, so if it is too dense and not liquidy enough, add some more coconut milk.
2.    Serve with extra cinnamon on top and some blueberries. If you're using frozen blueberries and it's for a snack throughout the day, you can let them defrost as the day goes on. Otherwise, let the blueberries defrost and enjoy it straight away.
Apple, Oat and Sultana Muffins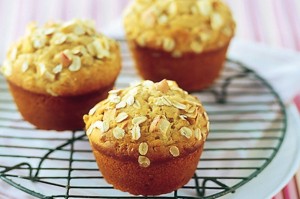 Ingredients
3 small apples washed and grated
1 cup rolled oats
1/2 cup of natural sultanas without oil
1 1/2 cups of Einkorn Flour
1 tsp baking powder
1/4 cup of Rapadura Sugar
1 tsp Seaweed Salt
2 eggs
1 cup milk (add more if needed)
1/4 cup melted butter or Coconut Oil
Method
1. Mix all the dry ingredients including sultanas.
2. Mix all the wet ingredients.
3. Combine wet and dry until just mixed.
4. Add the grated apple and mix until combined.
5. Place the mixture into greased muffin trays and cook at 180C for 20-30 minutes or until golden on top.
6. Serve warm along with homemade ice-cream, yoghurt, kefir, whipped cream or seasonal fruit.

Beverley's Better than you know Choc Muesli Bars
2 cups organic GF rolled oats
1 cup organic shredded coconut
1/4 cup almond meal
1/4 cup organic buckwheat flour
1/4 cup rapadura or raw sugar
1 Tbsp honey
130g butter or ghee
1/2 cup dried fruit: sultanas, berries, apricots or cranberries
Changing Habits Cacao Wafers, melted for drizzling on top
Method
1. Preheat oven to 180C.
2. In large bowl, place rolled oats, coconut, almond meal and buckwheat flour.
3. In saucepan, place sugar, honey and butter and melt over medium heat until combined.  Bring ingredients to a bubbling and golden consistency.
4. Add to dry ingredients and stir well.
5. Place baking paper in slice tray.
6. Press muesli bar mix evenly into tray with egg lifter or fingers.
7. Bake for 18 – 25 minutes until golden brown.
8. Upon removal from oven, press muesli bar mix again with egg lifter (this compacts slice and seems to hold it together better).
9. Allow slice to cool and place in the fridge.
10. Once cold, slice into muesli bars.